We have been committed to providing quality products since 1974. Our goal is to serve our customers with the best pricing possible and help our customers lower the cost related to their repair and maintenance supplies.
---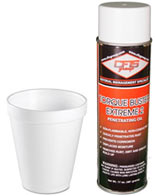 CFIS Part # 251005 TORQ EXTREME-2 PENETRANT uses a chlorinated solvent (perchlorethylene) which is heavier than water. This is the reason this product will also displaces moisture. "Perchlorethylene" is heavier than water so it falls below the water and just so happens to eat Styrofoam.
Some "competitors" use another chlorinated solvent called Methylene Chloride. This is also heavier than water and will displace moisture and eat out the bottom of a Styrofoam cup faster. We don't like the fact that it is very aggressive on painted surfaces and overspray could take paint off.
PLEASE NOTE: It is not the penetrant eating away at the bottom of the cup. It is the chlorinated solvent, the carrier of the oil, eating away the cup. Some unknowlegeable salespeople will lead you to believe it is the penetrant. (How can you trust a company like that?)
---